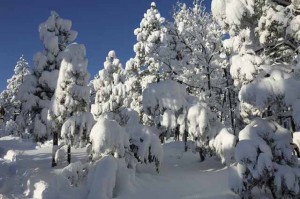 There is a winter weather advisory that will stay in affect until 5 a.m Sunday.   A strong pressure over the the north Pacific will progressively move into our area.  There will be periods of moderate and heavy snow in the northern sierra.  Winds from the southwest will be around 15 – 25 mph and could possibly reach 45 mph. Sierra ridge gusts could reach 100 mph and lowering after midnight.
Snow accumulations could be up to 6 inches and up to 10 inches above 7000 feet.  If you are traveling into the Tahoe area, please use caution.  Roads can become icy and the snow can cause low visibility.  Please be careful and slow down.
Snowforecast is predicting that Heavenly Resort will see 10 – 16 inches of snowfall and 16 – 20 inches above 7000 feet by tomorrow morning! Kirkwood Resort might be receiving 16 – 20 inches and Sierra at Tahoe 13 – 18 inches with 16 – 20 inches of snowfall above the 7000 ft mark.   It is looking like a beautiful powder day for tomorrow!