Lake Tahoe Snow Conditions-Reports 
The skiing and riding at Lake Tahoe should improve later in the week as the weather pattern changes for Lake Tahoe and the High Sierra. It appears that there may be 6-12 inches of new snow between Wednesday and Thursday and more over the weekend. Anyway, you can always check out what is going on with current satellite photos. Looking out into the future the weather pattern appears to stay active. What is really needed is a big dump of wet snow tapering off to a top base of dry fluffy snow. Here are the current resort reports for January 20, 2009:
Here is the model map for February 1, 2009: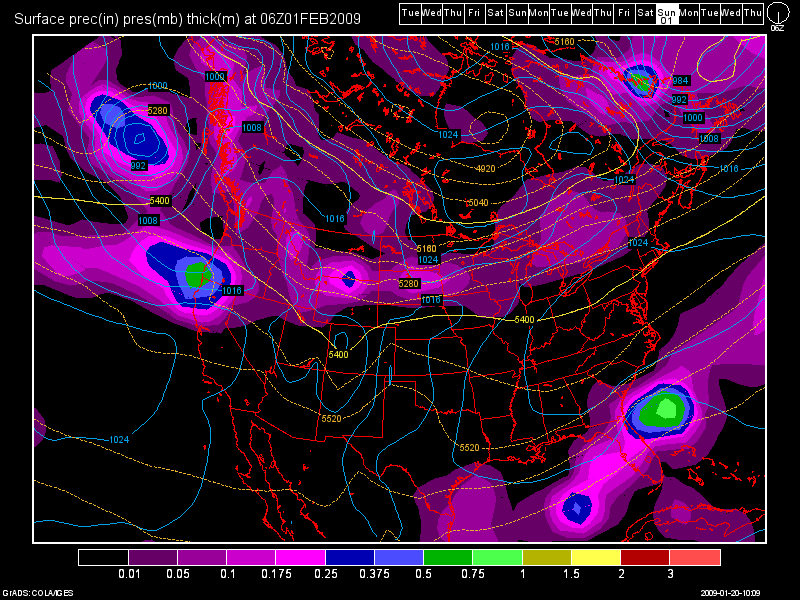 The following is the Scientific forecast discussion for the next several days from the NWS:
Area forecast discussion
National Weather Service Reno Nevada
323 am PST Tuesday Jan 20 2009
Short term…
the persistent upper level ridge over the western states will
finally get pushed east by Wednesday as we get into a more active
weather pattern. An approaching trough is currently off the California coast
near 135w…bringing up increased clouds and moisture some the south
into the western Great Basin for today.
As the trough moves closer to the coast on Wednesday…its expected
to pick up a slug of subtropical moisture. AMSU satellite precipitable water is
showing a deep moisture area off the coast of Baja California California at 25n
125w…with values of over 1.5 inches precipitable water. This will get pulled up
ahead of the approaching trough into California. It will be critical
to see how much moisture gets pulled north before the trough swings
through Wednesday night and Thursday morning.
This is not looking like a very significant precipitation event…although
certainly well needed. The main focus of precipitation will be in the High
Sierra…where quantitative precipitation forecast totals along the crest may reach up to around 0.5
inches Wed-Thu. Even though there is going to be a decent moisture
tap…this system moves through the region rather quickly…limiting
the precipitation amounts. The last few runs of GFS have been showing
greater precipitation down in Mono County…splitting the main chunk of
vorticity south of Tahoe. Comparing to the 00z GFS ens and ec…this
did not match up well…indicating that the 00z GFS was an outlier.
Trended the forecast toward Euro solution bringing a more consolidated
vorticity maximum into CA/NV. Increased probability of precipitation and quantitative precipitation forecast along the Sierra
crest…Cat for Mono County…likely pop up into the Lake Tahoe
basin for Wednesday night. Quick look at the 06z GFS…just coming
in…looks to be a good match to 00z Euro with low center tracking
over northern California instead of Southern California like previous runs.
Snow levels will be remain high…which is very common when we get
these subtropical moisture taps. 700mb temperatures will only get down to
around -2c in Tahoe and around freezing in Mono County…meaning snow
levels will start out near 8000 feet falling to 7000-7500 feet by
Thursday. This will keep snowfall to the higher elevations and
passes…with 3 to 6 inches expected above 8000 feet in Mono County
and south of Lake Tahoe. Not expecting any winter statements at this
time…due to the high snow levels and limited snow amounts.
Not much quantitative precipitation forecast expected for the leeside basin and valleys…including
Reno. May see a short period of spillover rain on Wednesday night…but
only a chance for now. A chance of convective showers expected for
Thursday as the trough moves directly overhead creating some instability
aloft. Hoon
Long term…Friday through Monday…
models continue to have trouble with the overall pattern for this
upcoming weekend and beyond. A shortwave ridge is expected to build
into the Sierra Friday in the wake of the departing sheared out
trough. There may be some light showers still around but nothing
significant and kept low end chance/slight chance probability of precipitation.
Big spread in model solutions over the weekend and into early next
week provide little confidence in the pattern. There will likely be
a cut off low off the California coast with a secondary wave moving toward
northern California/Nevada out of northwest flow. The combination of these features should
produce some precipitation Saturday over the area…mainly over the mountains
but amounts do not look substantial at this time. By Sunday…the
low off the California coast looks to drop south and even slightly to the
west with a faster northwest/southeast flow into the Pacific northwest/northern California. There does
look to be a push of cold air out of the northern rockies and into the
Great Basin. How far west and south the cold air gets is uncertain
and will determine the amount of precipitation for the forecast area. The
most likely scenario…based on the greatest number of similar GFS
and Canadian ensemble members…would bring the heaviest precipitation over the
Pacific northwest with some showers over the forecast area as the colder air
drops south. Again how far west the cold air gets will determine
precipitation amounts. Will keep at least some mention of probability of precipitation all area
into Monday with this scenario.