Lake Tahoe Activities-Opening Day Lake Tahoe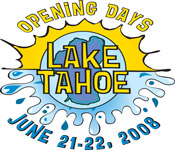 Friday, June 20
Judy Collins in The South Shore Room at Harrah's Lake Tahoe
Saturday, June 21
Blue Avenue Block Party from Noon – 5 p.m. featuring:
* Freestyle Moto-X Rock Show
* Miss Hawaiian Tropic Northern Nevada State Finals
* Live Music on three stages
* Flying Elvi Skydive Team
* Street Performers
* Harley/Hot Rod Displays
* Food Vendors representing some of Tahoe's Finest Restaurants
* Art Show
* Craft Fair
* Recreation Expo
* Complimentary Bike Valet
* Bounce House & Climbing Wall
After Party at Heavenly Village from 5 p.m. to 7 p.m. featuring:
California Dreamin'…A Musical Journey through the Golden State
Sidewalk Sale
Headliner Entertainment at MontBleu Resort Casino & Spa featuring:
Smokey Robinson at 8 p.m.
For tickets visit montbleuresort.com
Sunday, June 22
Blue World Activities featuring:
* Great Lake Tahoe Sternwheeler Race – Marking the 25th anniversary of the Tahoe Queen
* Walt Disney Themed Yacht Club Parade
* World's Highest Parasail Competition
There is no charge to attend the Block Party on Saturday. The lake activities on Sunday can be watched from the shoreline of many local beaches but those who want to be part of the action can purchase tickets to ride one of the Paddlewheelers as they race from shore to shore. Price of tickets for the Tahoe Queen and/ or The M.S. Dixie II are $25 and includes breakfast and the boat race. To purchase tickets, call 800-23-TAHOE.
Those seeking additional information on this event can call 800-AT-TAHOE.