American Century Championship Celebrity Golf Tournament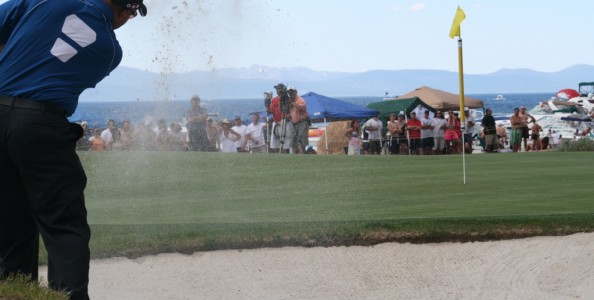 John Elway teeing off at the 2009 American Century Golf Championship
American Century Championship Celebrity Golf Tournament 2011 Info Coming Soon!
The American Century Championship is considered by many to be the highlight of their summer vacation in South Lake Tahoe. The event, held annually at scenic Edgewood Golf Course, sees wide ranging star quality that other events can't rival. Fans come from around the world to brush elbows with the favorite celebrities and to watch them compete in this charity tournament set against the incomparable backdrop of Lake Tahoe.
This year's 21 annual 54-hole, $600,000 tournament features competing celebrities including Michael Jordan, Charles Barkley, Ray Romano, Tony Romo, Taylor Hicks, Don Cheadle, John Elway, Marcus Allen and Ray Allen. The list of challengers is more talented than ever. The past two years, Romo has finished runner-up and third, Dan Quinn and Billy Joe Tolliver are previous champions, and Elway has been aspiring to win the event for the past two decades.
The event helps raise funds for needy causes such as Autism Speaks and the Lance Armstrong Foundation. Combine the beautiful atmosphere of the lake with the chance at meeting over 75 sports and entertainment celebs and you've got one starry-eyed vacation.
Here, you can view the Complete Player Roster.
The event tees off July 13th through 18th at the Edgewood Tahoe Golf Course.
Additional information and tickets are available at the Tahoe Celebrity Golf website, or call the Lake Tahoe Visitors Authority at (530) 544-5050 ext. 224. Tickets can also be purchased daily at the front gate, starting at 7 am.
Event Schedule
TUESDAY, JULY 13
7 a.m. -3 p.m. — Celebrities and sponsors practice rounds
9 a.m. shotgun start — Lake Tahoe Visitors Authority Celebrity-Am
WEDNESDAY, JULY 14 AMERICAN CENTURY GUESTS
8:40-9:10 a.m. — First tee, practice rounds
8:45-9:15 a.m. — 10th tee, practice rounds
12:40-1:50 p.m. — First tee, Harrah's Celebrity-Am Tournament
12:35-1:45 p.m. — 10th tee, Harrah's Celebrity-Am Tournament
4-5 p.m. — KORBEL California Champagne media putting contest
THURSDAY, JULY 15
AMERICAN CENTURY CELEB-AM TOURNAMENT
7-9:10 a.m., 12:05-2:15 p.m. — American Century Celebrity-Am Tournament, first tee
7:05-9:15 a.m., Noon-2:10 p.m. — American Century Celebrity-Am Tournament, 10th tee
9 a.m.- 4 p.m. — Korbel Celebrity Spray-Off competition,
17th hole
FRIDAY, JULY 16
8:35-10:35 a.m., first tee — ACC first round
8:30-10:30 a.m., 10th tee — ACC first round
4:15 p.m. — Korbel Long Drive competition, driving range
SATURDAY, JULY 17
8:25-10:25 a.m., first tee — ACC second round
8:30-10:30 a.m., 10th tee — ACC second round
SUNDAY, JULY 18
8:25-10:25 a.m., first tee — ACC final round
8:30-10:30 a.m., 10th tee — ACC final round