Nightlife at the Lake – Tahoe's Nightclubs and Bars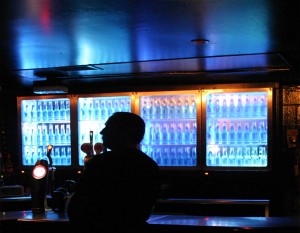 If you thought Tahoe was all skiing, boarding, beaches and daytime fun, you, my dear traveler, are sorely mistaken. Because when the sun goes down, the South Shore's nightlife is a class above. You can choose from one of the renowned nightclubs at the casinos, or the laid-back atmosphere of one of the many favorite local bars. Whatever you choose, you're sure to have fun partying Tahoe.

Aspen Lounge
Located inside Horizon Casino, Aspen Lounge has free nightly entertainment – music and dancing, plus drink specials seven days a week.
50 Hwy 50 Horizon Casino Resort, Stateline
Phone: (775) 588-6211
blu Nightclub
blu Nightclub is a world-class nightclub inside MontBleu that features DJs and a dance floor that's got great new technology in lights and sound. High-energy entertainment, VIP cabanas, bottle service, and exclusive promotions nightly.
55 Hwy 50 MontBleu Casino and Resort, Stateline
Phone: (888) 829-7630
Vex Nightclub
VEX girls performing Fridays and Saturdays starting at midnight, highly trained and experienced aerial performers, all set to musical choreography. VEX Nightclub also has VIP booths which include the best views of the club, bottle service and 8 cabanas.
15 Hwy 50 Harrah's Casino Lake Tahoe, Stateline
Phone: (775) 589-6705
Cabo Wabo Cantina
Inside Harveys Casino and Resort, the lounge at Cabo Wabo Cantina opens at 4pm and stays open well into the night. Live entertainment five nights a week with no cover charge, dining room, and the Red Rocker room, which accomodates groups of up to 50.
18 Hwy 50 Harveys Casino and Resort, Stateline
Phone: (775) 588-2411
Opal Ultra Lounge
The south shore's newest club, Opal Ultra Lounge features regional and national deejays, an innovative Bar Chef, VIP tables and bottle service by reservation, and is probably the only place in Tahoe where you can dance on the tables to the beat of bongo drums. Specials every Friday and Saturday, including Ladies Night, where ladies drink free all night.
55 Hwy 50 MontBleu Casino and Resort, Stateline
Phone: (888) 829-7630
Watering Holes
The Brewery
Lake Tahoe's original brewpub has a diverse menu, special cocktails, unique brews, and friendly service that all combine for a fun and casual atmosphere. The Brewery is located close to Heavenly and the casinos. Open from Sunday through Thursday 11am to 9pm, and Friday and Saturday 11am to 10pm.
3542 Lake Tahoe Blvd
Phone: (530) 544-2739
The Beacon Bar & Grill
Right on the beach at historic Camp Richardson, The Beacon is a favorite in the summer months, with incomparable outdoor dining, deck appetizers and drinks, and live music Wednesdays through Sundays. You can also have lunch or dinner on the deck or in the relaxed dining room.
1900 Jameson Beach Rd
Phone: 530) 541-0630
The Cantina Bar & Grill
Voted Best Mexican Restaurant ten years running plus Tahoe's Best Margarita by readers of the Tahoe Daily Tribune, The Cantina is a Lake Tahoe icon and a local favorite. Excellent service, Monday through Friday happy hour, outdoor dining on the patio, 30 different beers, and a full-service bar with three sports televisions.
765 Emerald Bay Rd
Phone: (530) 544-1233
Chase's Bar and Grill
Delicious New Orleans style dining with spicy, rich, and unique Creole flavors. Located at the South Lake Tahoe airport, Chase's Bar and Grill is sure to provide spectacular views of the Upper Truckee meadow, and also offers an extensive wine list and specialty drinks.
1901 Airport Rd #105
Phone: (530) 544-9080
The Divided Sky
The Divided Sky is a more comfortable and friendly alternative to the casino bars, with live music, good food and drinks, organic eats, and an upstairs living room like setting that will make you feel at home at the edge of the Tahoe Basin. Opens daily at 2pm.
3200 US Highway 50
Phone: (530) 577-0775
The Fresh Ketch
The bar and lounge at Fresh Ketch is an exceptional local recommendation for excellent food, drinks, and entertainment. The lounge serves a full bar menu with outstanding drinks, local boutique wines, and Tahoe's only oyster bar. Local and regional musicians on Friday and Saturday nights.
2435 Venice Dr.
Phone: (530) 541-5683
Goal Post Restaurant and Bar
Goal Post is a local sports bar featuring five TVs, and fun games; shuffleboard, pool tables, and video poker machines. It serves pizza and American cuisine, and also has a full bar.
290 Kingsbury Grade, Stateline
Phone: (775) 588-6563
Hard Rock Cafe
Surrounded by Alpine ski lodge decor, with mouthwatering food including burgers voted #1 in the state by Nevada Magazine, a premium bar with signature drinks, and 18 video poker machines, at Hard Rock Cafe you'll soon be feeling like a rock star. Opens daily at 11am.
18 Hwy 50 Harveys Casino and Resort, Stateline
Phone: (775) 588-2411
The Island Restaurant & Bar
The Island is a great place for diverse nightly music. With live performances of blues, jazz, R&B, and funk, there's sure to be something for the music fan in all of us. There's also 10 great microbrews on tap.
4093 Lake Tahoe Blvd
(530) 542-1142
Lakeside Beach Grill & Marina
Overlooking the water at the marina, Lakeside has an exceptional menu, serving lunch and dinner along with local beers and regional wines. Lakeside Beach Grill also has an outdoor open-air setting to add to your experience, as well as scheduled entertainment. Reservations are suggested.
4081 Lakeshore Blvd
(530) 544-4050
McP's Irish Pub & Grill
Located just a couple blocks away from the casinos, McP's is in perfect stumbling distance during a fun night out. The live nightly music is blues and rock, performed by local musicians goes perfectly with the traditional pub faire and selection of beers on the menu.
4090 Lake Tahoe Blvd
(530) 542-4435
Mott Canyon Tavern & Grill
Mott's has a menu chock full of great food complimented by a full bar serving premium brands, 13 ice cold beers on tap, and a "Beer of the Day" special everyday, all day long. Great casual dining with a wide variety, all of it in generous portions, and daily happy hour from 4pm to 6pm and 12am to 4am. In addition, Mott's Canyon Tavern & Grill offers progressive video poker, pinball, PGA video golf, a vintage video game with 38 classic games, and an Internet Jukebox.
259 Kingsbury Grade
Phone: (775) 588-8989
Mulligans Irish Pub
Mulligans recieved the James Joyce Pub Award for recognition of standards of quality, atmosphere, attention to detail, proffessionalism, excellent service, and being a true representative of Irish pub life. The pub hosts all major sporting events and offers Sunday, Monday, and Thursday night football specials any time there's a game. Happy hour never looked so good as it does at Mulligans bar, which features excellent authentic Irish beers and mixed drinks. Try the famous "Irish Car Bomb".
3600 Lake Tahoe Blvd
Phone: (530) 541-1095
Riva Grill Restaurant
At Riva Grill, the floor-to-ceiling views are steeped in nostalgic ambiance, and the year-round lakefront dining is made all the more special by the huge, sunny deck. The versatile menu features sinfully delicious desserts and cool specialty drinks. Be sure to try their famous Wet Woody.
900 Ski Run Blvd at Ski Run Marina
Phone: (530) 542-2600
Rockwater Bar & Grill
In the warm and cozy atmosphere of Rockwater Bar & Grill you can enjoy Irish favorites in addition to soups, salads, sandwiches and burgers, and vegetarian options for a truly unique menu. Entertainment includes Open Mic Night, Celtic Jam Session, European Soccer and Rugby, "Juke Box" on the wall, wireless internet, darts and billiards.
787 Emerald Bay Rd
(530) 544-8004
Rojo's Tavern
Rojo's Tavern is a local landmark that has been family owned since 1975. An excellent spot for barbeque ribs and steaks, "outrageous" sandwiches, Rojo's also includes a children's menu, a full-service bar, and live rock and roll music on Thursdays.
Hwy 50 and San Francisco Ave
Phone: (530) 541-4960
Sam's Place Beach House Bar
Eat at Sam's Place, where they offer a full restaurant and bar with all of your favorite drinks and a new entree menu. Nightly entertainment entails casino style gaming, pool tables, and an internet jukebox. Party like a local with Monday through Friday happy hour, Thursdays Ladies Night, Sunday Football with food and drink specials and Bracket Pool Tourneys, and the ever-popular open beer pong on Wednesdays.
611 Hwy 50, Zephyr Cove
(775) 588-2844
Tavern Bar
The Tavern Bar, inside Lakeside Inn & Casino features the best possible sports viewing in South Lake. 24 plasmas and two main 60-inch screens provide viewing of just about any sports team you can imagine, not to mention the 9 plasmas dedicated to track events. The Tavern has a worldwide selection of beer with 12 on tap and over 20 in bottles, great local and guest West Coast bands, Karaoke, cutting edge slot machines, and knowledgable bartenders.
168 Hwy 50, Lakeside Inn & Casino, Stateline
Phone: (775) 588-7777
Timber House Bar
The Timber House Bar is located inside Lakeside Inn & Casino and has a quiet, non-gaming adult environment with specialty cocktails and wines-by-the-glass for a different experience. Casual dining is available from the Timber House Restaurant, and it also contains five plasmas for sport enthusiasts. Popular for solo dining.
168 Hwy 50, Lakeside Inn & Casino, Stateline
Phone: (775) 588-7777
The Tudor Pub
This local London-style pub has a spot-on authentic English menu with great food and drinks plus a dose of hospitality and English atmosphere. At The Tudor Pub, happy hour runs from 4pm to 7pm daily, and entertainment includes Sunday and Monday large screen sporting events with food and drink specials, special Martini Menu prices on Wednesdays, Open Mic or Karaoke on Thursdays, and live music Fridays and Saturdays.
1031 Fremont Ave
Phone: (530) 541-6603
Turtles Sports Bar & Dance Emporium
Located inside Embassy Suites Resort, Turtles has a DJ and dancing nightly, brick oven pizza, and 8 large screen TVs for a fun time during football season. Happy hour features food specials and drink specials from 9pm until 2am.
4130 Lake Tahoe Blvd, Embassy Suites Resort
Phone: (530) 543-2135
Whiskey Dick's Saloon
Whiskey Dick's is another local favorite, and for good reason, too. Full-service bar, friendly atmosphere, shuffleboard, pool tables, and an outdoor area where you can take your beverages. They have live music almost every night, and when they don't, the bartenders let the patrons pick the music.
2660 Lake Tahoe Blvd
Phone: (530) 544-3425
Brother's Bar and Grill-Biker Friendly Lake Tahoe Bar
OK….this is the most notorious bar at Lake Tahoe…and for really no good reason! Biker friendly, good food, cheap beer and booze…why the notorious tag? Check it out!

888 Emerald Bay Rd
South Lake Tahoe, CA 96150
(530) 541-7017