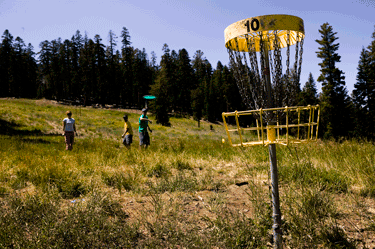 One of the best ways to enjoy the amazing weather we have in Lake Tahoe is to head out with some friends and play a round of disc golf. It is a great way to enjoy nature and spend some time outside on a beautiful day. There are three different courses in the Lake Tahoe area and each of them offer different obstacles and terrain that make each unique. The first course "Bijou" is located off of Al Tahoe right by the skate park, and is the closest to most south shore guests. With 27 holes you can play all afternoon.
This course has the most trees of any of Lake Tahoe's disc golf courses so bring you're A game. There are many picnic tables scattered throughout the course so pack a lunch and hang out for a while. If your playing early season watch out for the sixth hole because you may land in "the lake" it normally evaporates by the middle of summer though. All in all a great course that will challenge most and the games go quick because of the lack of many elevation changes and hilly terrain. The second and most challenging course is located in the park in Zephyr Cove. Bring some good shoes because you will encounter many elevation changes and steep grades.
This course has beautiful lake views from a number of holes and will really challenge even the best of players. Pay attention to your drives because it is not uncommon to lose a disc… there is a lot of thick brush and quite a bit of trees. This course is also the least crowded so even though it is challenging it is good for beginners because they can take their time and even take practice shots.
If you like challenging yourself this is the place for you… just be ready to climb some hills. The third course is actually located on the mountain at Kirkwood. This course is not for the unfit… the base of the course is at 7800' and you go up from there. With 18 challenging holes that weave throughout the mountain it is a great way to see what the ski area looks like without tons of snow on it. Take the beautiful drive out to Kirkwood and play in the sun you won't be disappointed. Whatever course you choose they are all a great time and the best part FREE! So get out and play a round and we'll see you out on the course.