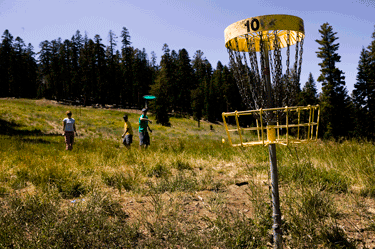 One of the best ways to enjoy the amazing weather we have in Lake Tahoe is to head out with some friends and play a round of disc golf. It is a great way to enjoy nature and spend some time outside on a beautiful day. There are three different courses in the Lake Tahoe area and each of them offer different obstacles and terrain that make each unique. The first course "Bijou" is located off of Al Tahoe right by the skate park, and is the closest to most south shore guests. With 27 holes you can play all afternoon.
This course has the most trees of any of Lake Tahoe's disc golf courses so bring you're A game. There are many picnic tables scattered throughout the course so pack a lunch and hang out for a while. If your playing early season watch out for the sixth hole because you may land in "the lake" it normally evaporates by the middle of summer though. All in all a great course that will challenge most and the games go quick because of the lack of many elevation changes and hilly terrain. The second and most challenging course is located in the park in Zephyr Cove. Bring some good shoes because you will encounter many elevation changes and steep grades.
This course has beautiful lake views from a number of holes and will really challenge even the best of players. Pay attention to your drives because it is not uncommon to lose a disc… there is a lot of thick brush and quite a bit of trees. This course is also the least crowded so even though it is challenging it is good for beginners because they can take their time and even take practice shots.
If you like challenging yourself this is the place for you… just be ready to climb some hills. The third course is actually located on the mountain at Kirkwood. This course is not for the unfit… the base of the course is at 7800' and you go up from there. With 18 challenging holes that weave throughout the mountain it is a great way to see what the ski area looks like without tons of snow on it. Take the beautiful drive out to Kirkwood and play in the sun you won't be disappointed. Whatever course you choose they are all a great time and the best part FREE! So get out and play a round and we'll see you out on the course.
Tahoe Mountain Charm throughout this two bedroom condo. This condo complex is conveniently located close to Heavenly, the Casinos, Ski Run Beach and Marina and all the wonderful restaurants and activities (summer farmer's market) along Ski Run Blvd. Enter into a cozy living room with flat screen tv, freestanding fireplace, dining area that seats 6 and a very well equipped kitchen. Downstairs also has a half bath with laundry (washer/dryer). Upstairs features two spacious bedrooms and full bath (remodeled, granite and tile). The first bedroom has a King bed and wall mounted flat screen. The second bedroom is perfect for the kids, double bed and twin bunk beds, TV, DVD, VCR and lots of movies to watch. The complex has charcoal bbq's in the open area. Bedroom 1: King Bed Bedroom 2: Double Bed, Twin Bunks City Of South Lake Tahoe Permit # 102461
The Lodge Pole Pine Cabin is your home away from home in South Lake Tahoe. TOTALLY REMODELED this year from top to bottom, this 3 bedroom, 2 bathroom cabin SLEEPS 8 AND is warm, charming and well appointed with Tahoe style furnishings, original art, and a fully equipped kitchen featuring stainless steel appliances, gas stove and an abundance of new cooking gear.
The log desk in the upstairs loft is perfect for writers looking for a peaceful place to work, or kids doing homework. The open kitchen/living room space features a gas fireplace to gather round while reading and playing games.
Situated 5 minutes from major bike trails, 7 minutes from the ski slopes, AND casinos and 7 MINUTES FROM THE BEACH, Lodge Pole Pine Cabin let's you take refuge in a quite tree filled neighborhood, but quickly reach South Lake Tahoe's nightlife, ski areas, restaurants, shopping, golf and everything else Tahoe has to offer.
For the discerning guest, this upscale cabin offers the perfect place for a couple's weekend, girlfriend getaway, writer or artist's retreat, family holiday, or even an individual break where rest and contemplation is the goal.
DOWNSTAIRS:
Living Room with Gas Fireplace, Flat Screen
Kitchen
Dining Ara
Full Bath
Laundry Room
Bedroom With Flat Screen
UPSTAIRS
Semi Private-Loft Style Bedroom with 4 Twins
Bath
Private Bedroom
City of South Lake Tahoe Permit 6377
Mountain Resort Report©
From: Curtis Fong – "The Guy From Tahoe" – Friday, December 7, 2012 – As of 7:30am
Good Morning Lake Tahoe Skiers & Riders! Here's your Mountain Resort Report for your Friday, December 7th. Shaping
up to be a Great Day to get some turns in… Expect Mostly Sunny to Partly Cloudy Skies with temperature in to the mid
40's on the slope and Light Winds. Possible Ridge Gusts up to 50mph in the afternoon. Dress in layers with a Jacket…
Wear a Hat, Beanie or Wear a Helmet for Safety; also, wear Good Sunglasses or Goggles. Don't forget the Sunscreen…
Surface conditions are Variable but primarily Machine Groomed Snow & Skier/Rider Firm Packed Snow with Packed
Powder on upper elevations. Ski & Ride with Care! Early Season Conditions Exist! Keep an Eye for Marked and
Unmarked Obstacles & Stay on Opened Runs Only.
South Lake Tahoe & Surrounding Area Resorts
Heavenly Mountain Resort – South Lake Tahoe CA/NV – Checks in reporting a base of 36-50". 10 Lifts & Tows are
scheduled to operate (9-4) with Access to the mountain is from the Heavenly Village Gondola with Tamarack, Dipper &
Comet Express operating on the upper NV side. And, today opening Canyon Express on Upper CA side accessible
from the Gondola with 5 more trails to open. 32 Trails are accessible; Plus 13 Terrain Park Features on CA Trail. Sky
Express will operate ONLY for return access back to NV side & Gondola. (MG Snow & PP / 24F / MClear / Lt-Mod
Winds). Unbuckle Apres Ski Party at Tamarack Lodge 3:30-5:30pm.
1-800-HEAVENLY. www.skiheavenly.com
Sierra-At-Tahoe – on U.S. Hwy 50 () – Is open, reporting a base of 14-60". 6 Lifts & Tows are scheduled to operate (9-
4) on the front side with EZ Rider, Nob Hill & Grandview Express to the top; Plus, 2 Surface Lifts. Plus, Backside opens
today with Short Stuff. 32 Trails are open (21MG) with Terrain Park Features on Snowshoe and on Broadway. (MG &
SKRPkd Snow / 32F / MClear / Lt Winds). (530) 659-7475. www.sierraattahoe.com
Camp Richardson Mountain Sport Center – on Emerald Bay Road () – will open for cross-country and snow shoeing
when conditions permit. (530) 542-6584. www.camprichardson.com
Hope Valley XC Outdoor Center – 14655 Hwy 89 /88 () – at Pickett's Junction, is open on weekend on a base of 6-12".
The Yurt is open from 10-4pm with XC & Snow Shoe Rentals. 10km of Skier Packed trails are accessible. (530) 694-
2266. www.hopevalleyoutdoors.com
Kirkwood Mountain Resort – On Hwy 88 () – is open, reporting a base of 38-48". 5 Lifts are scheduled to operate (9-4)
out of the Mtn. Village. Chair #1, Chair #5 & #11; Plus, Chair #6 & Chair #10 to the top of the front side. 39 Trails
(16MG) & 3 Bowls are to open. (MG & SKRPP / 28F / PCldy & Lt Winds). Kirkwood to open Entire Mountain on
Saturday with all 11 Lifts, including Timber Creek Base & The Backside. Kirkwood XC & Snowshoe Center is open
for retail (trails Closed). (877) KIRKWOOD. www.kirkwood.com
North & East Shore / Nevada Resorts
Spooner Lake Cross Country – at the Junction of Highway 28/50 () – at Spooner Lake State Park. After 27 years, Max
& Patti Jones have decided not to renew their lease with Nevada State Parks. State Parks report they will try to keep
the parking lot plowed but will not be packing or maintaining trails or seeking another operator…
Diamond Peak – Hwy 28 () – in Incline Village – is scheduled to open December 13, conditions permitting. They report
a snow depth base of 6- 18". (775) 831-1177. www.diamondpeak.com
Mt. Rose Ski Tahoe – Mt. Rose Hwy 431 () Is open reporting a base of 36-71". 3 Lifts are scheduled to operate (9-4)
with the Ponderosa Lift & the NW Magnum 6 to the top of the Rose Side; Plus Blazing Zephyr schedule to open at 8:30
on the Slide Side. 37 trails are open (27MG). (MG & SKRPkd Snow & FP / 29F / MClear / Lt Winds). (800) SKI ROSE.
www.mtrose.com
Truckee Area Resorts
Northstar California – On Hwy 267 () – Is open reporting a base of 18-60". 7 Lifts are scheduled to operate (8:30-4)
with the Arrow Express & the Comstock Express the top of the front side and Today, Zephyr Express will open with 4
more trails. 34 trails are open (26MG) + Terrain Park has been rebuilt with 22 features. (MG & SKRPkd Snow / 26F /
MClear / Lt Winds). The Village Ice Rink scheduled to open (12-9pm). (530) 562-1330. www.northstarcalifornia.com
Tahoe Donner Ski Area – 11603 Snowpeak Way () Truckee – Is waiting on more snot to open. Tahoe Donner XC –
will open when conditions permit. (530) 587-9484. www.skitahoedonner.com
Donner Summit Resorts
Boreal Mountain Resort – Off I-80 () – at Boreal/Castle Peak Exit – is reporting a base of 29-41". 4 Lifts & Tows are
scheduled to operate with The Nugget Chair & Kids Carpet (9-4) & the Castle Peak Quad & Accelerator Express to the
top (9am-9pm). 22 runs are open with 17 Terrain Park features. (MG & SKRPkd Snow / 33F / MClear & Lt Winds). Play
Land Tubing Park open from 10-4pm. (530) 426-3666 #1. www.rideboreal.com
Soda Springs Winter Resort – Off I-80 () on Donner Pass Rd. () – Has Scheduled Dec 14 as Opening Day and plans to
have Tube Town, Planet Kids and Lift access for skiing & boarding. (530)426-3901 www.skisodasprings.com
Royal Gorge Cross Country Ski Resort – Off I-80 () on Donner Pass Rd () in Soda Springs, is now owned and
operated by Sugar Bowl. XC Snowshoeing Season Passes are available for $299. Will open when conditions permit
(530) 426-3871. www.royalgorge.com
Donner Ski Ranch – On Donner Pass Road / Old Hwy 40 () – Needs 6" more inches of snow to open… (530) 426-3635.
www.donnerskiranch.com
Sugar Bowl Ski Resort – Off I-80 () on Donner Pass Rd () – Is open thru Sunday. They report a base of 18-80". Access
to the mountain is from the Gondola with 4 Lifts scheduled to operate (9-4); Nob Hill, Disney, Christmas Tree & Mt.
Lincoln Express to the top for top to bottom skiing & riding. 31 runs are open (23MG). Plus a Terrain Park with 8
Features. (MG FP Snow / 32F / MClear & Lt Winds). (530) 426-1111. www.sugarbowl.com
West Shore / North Lake Tahoe Resorts
Homewood Mountain Resort – On Hwy 89 () – 6 miles South of Tahoe City, is planning to open on Dec. 14, conditions
permitting. (530) 525-2900. www.skihomewood.com
Granlibakken Ski & Snowboard Hill – Hwy 89 () – Tahoe City – The Ski & Snowboard Hill will open when conditions
permit and scheduling Dec. 16 as opening. (530) 581-7533 www.granlibakken.com
Tahoe Cross Country Ski Area – 3 miles E. of Tahoe City on Hwy 28 () – Will open when conditions permit. (530) 583-
5475. www.tahoexc.org
Alpine Meadows Ski Resort – Hwy 89 () – is Open today. They report a base of 19-46". 6 Lifts & Tows are scheduled
to operate (9-4) including Roundhouse, Summit Six & Alpine Bowl. 12 Trails open (7MG) plus 12 terrain features (MG
Snow / 32F / PCldy / Lt Winds) The Squaw / Alpine Free Shuttle will operate so you go back & forth. (530) 581-8374.
www.skialpine.com
Squaw Valley USA – Hwy 89 () is open reporting a base of 4-60". 14 Lifts are Scheduled to operate (9-4) with 5 Lifts
from the bottom, including the Aerial Tram & the Funitel; Plus, 3 Surface Lifts; 9 Lifts are scheduled for the Upper
Mountain, including Shirley Lake, Siberia & Granite Chief now open. 28 Runs are open. (MG & SKR Pkd Snow / 26F /
MClear & Lt Winds). (530) 452-4335. www.squaw.com
And, for XC Skiing or Snow Shoeing & Ice Skating, The Resort at Squaw Creek has their Ice Rink open – Weather
Permitting. (530) 583-6300 ext 6631. www.visitsquawcreek.com
Central Sierra Resorts
Mammoth Mountain – off Hwy 395 () – Is opening the Entire Mtn today, reporting a base of 54-78". 23 Lifts are
scheduled to operate (8:30-4) with 13 Lifts out of the Main Lodge, 8 Lifts out of Canyon Lodge & 2 Lift from Eagle Lodge.
153 Trails are opened (70MG) + 5 Terrain Parks with 33 features. (MG & SKR PP / 30F / Clear & Lt Winds). (888) 766-
9778. www.mammothmountain.com
June Mountain – June Lakes Loop () Will be closed this winter. (760) 934-2224. www.junemountain.com
Yosemite/Badger Pass – on Badger Pass Rd () – Scheduled to open on Dec 14, or as conditions permit. They picked
up 8" of new snow.
Dodge Ridge – Pinecrest, CA on Hwy 108 () – Is schedule to open in early December, conditions permit. They received
12" of new. (209) 536-5300. www.dodgeridge.com
Bear Valley Mountain Resort – Hwy 4 () – Will open December 21, or when conditions permit. They report 29" of new
from this storm. (209) 753-2301 #2. www.bearvalley.com
Bear Valley XC – will re open on Dec. 8. (209) 753-2834. www.bearvalleyxc.com
So, there you have it, All Roadways & Mtn Passes around Tahoe are open. Call 5-11 for updates on Roads. For updates
on this Reports, Please visit my Website at BikeandSkiTahoe.Com. Have and a Safe Day on the Mountain… It's Curtis
Fong, TGFT … And, that's your Mtn. Resort Report.
www.bikeandskitahoe.com
FOR CURRENT ROAD INFORMATION CALL:
CALIFORNIA: 1-800-427-7623 • NEVADA: 1-877-NV-ROADS or 511
R1=CHAINS OR SNOWTIRES REQUIRED
R2=CHAINS MANDATORY EXCEPT 4WD WITH SNOWTIRES
Listen to KTHO anywhere around the World at kthoradio.com
Special Events and Promotions:
Tahoe Sports Ltd. Apres Ski – Happy Hour
Thursdays – Saturdays – Starting at 4:00pm.
FREE Swix HOT WAX
Complimentary Wine from Red Poets & Skyhawk Lane Wine Tasting Room.
Rent Equipment the night before at no additional charge. Rent 3 days & 4th day is FREE