One of the biggest summer weekends for vacation rentals in South Lake Tahoe (aside from 4th of July of course) is The Celebrity Golf Tournament. Taking place at Edgewood Golf Course, this 54-hole event includes a purse of $600,000 with a $125,000 for the winner. This high profile tournament also raises money for the Stowers Institute for Medical Research which is a non-profit, basic biomedical research organization that studies the fundamental processes of life and is dedicated to improving human health. This event has raised over $4 million in charity to date and also benefits the regional Lake Tahoe non-profits as well. One of the funnest parts of this event is seeing so many professional athletes and celebrities take on our local links. This year, we can look forward to Charles Barkley, Justin Timberlake, Aaron Rodgers, Emmitt Smith, Larry Fitzgerald, John Elway and many more.  Not only is the town filled with celebrities and professional athletes, but there are major headliners at the Harvey's outdoor summer concert series and several other events that happen around town during this week. Which makes for a busy town with lot's of traffic and very little vacancy with South Lake Tahoe vacation rental accommodations. If you are planning a trip to the area during July 19th-24th, be sure to book your South Lake Tahoe vacation rental now as our properties go quickly. We have vacation rental properties in South Lake Tahoe ranging from the charming Ol' Tahoe cabin to the Luxury Lake Tahoe mountain lodge. If you are thinking of attending the celebrity golf classic, click here for more information. If you would like to check out the South Lake Tahoe vacation rental properties, click here and feel free to let us know if you have any questions. Below is ticket information for the Celebrity Golf Classic.
$20 for the Lake Tahoe Celebrity-Amateur on Tuesday, the practice round on Wednesday and for the American Century Celebrity-Amateur on Thursday.
$30 for each tournament rounds on Friday, Saturday, and Sunday.
A $60 Patron Badge Season Pass allows you to access all six days of the event but has to be purchased by 06/19 otherwise cost goes up to $70.
Kids 10 and under are free so long as they are accompanying a paid adult.
Harrah's and Harvey's recently announced their line up for the outdoor summer concert series and it consists of some major award winning artists. If you plan on attending one (or more!) of these world class music events, be sure to book your South Lake Tahoe vacation rental before they sell out.
Slightly Stoopid, Saturday, Jul 2, 2016 06:00 PM $37.50.
Slightly Stoopid hails from Ocean Beach, California and is known for their blend of reggae, reggae rock, punk, dub and blues. This concert will unveil their latest music experiment "Meanwhile….back at the lab". This project started back in 2013 at their own record label Stoopid Records. This touring act is a local favorite and not to be missed as one of the first concerts in Harrah's & Harvey's outdoor summer concert series.
Widespread Panic, Wednesday, July 6, 2016, 6:30 pm $49.50
Since Widespread Panic came on to the scene in 1986 in Athens, Georgia they have achieved elite status among American jam bands. Their blend of Southern rock, blues-rock, progressive rock, funk and hard rock genres is constantly resulting in them being compared to Grateful Dead and Phish. This group is widely known for their live performances and record sold out performances.
James Taylor, Wednesday, July 13th, 2016 7:30pm $59.50-$129.50
James first came on the scene in 1970 and ever since then has won multiple Grammy's, been inducted into the Rock & Roll Hall of Fame and is one of the best-selling artists of all time thanks to selling more than 100 million records worldwide.  He is best known for articulating moments of happiness and sadness in his music in a way that fans and listeners resonate with.
Tim McGraw, Saturday, July 23, 2016, 7:30 pm $89.50-$179.50
Tim McGraw's performance will be a major highlight to the 27th Annual American Century Championship which is happening the same week as Tim McGraw's performance. This is the country's premier celebrity golf tournament and is broadcasted live on NBC Sports television. Selling more than 40 million records globally and having 36 #1 chart singles, winning multiple Grammy's and other awards, Tim McGraw is an iconic performer and this show is sure to be one for the books.
Don Henley, Sunday, July 24, 2016, 8:00pm $59.50-$149.50
If you love the Eagles, you won't want to miss this. Don is one of the founding members before he launched his own solo career which turned out to be very successful. As a solo musician, he has sold over 10 million albums globally, has had 8 top 40 hits, won multiple awards and was ranked by Rolling Stone magazine as the 87th greatest singer of all time.
Sting & Peter Gabriel: Rock Paper Scissors, Friday, July 15th, 7:00pm, $97.56-$277.95
Two of music's most iconic artists will come together in Lake Tahoe to put on an unforgettable concert.  These two first toured in the 80's and we will reunite to perform both solo and with each other's bands during this event.  Peter Gabriel was first known for the band he co-founded, Genesis. Since leaving the band in 1975, his recording career has included eleven studio albums, film soundtracks, multiple Grammy Awards, the creation of the Real World Records label, and the creation of WOMAD, a festival that has launched over 170 festivals in 30 countries along with the careers of many world music artists. Sting is known for his involvement in The Police. Since then, the band released five studio albums, received six Grammy Awards, two Brits and was inducted into The Rock and Roll Hall of Fame. As a solo artist, Sting has released fourteen solo albums and received additional awards including 10 Grammy's, a Golden Globe, two Brits, an Emmy, three Oscar nominations and so much more. This dual performance is sure to be a huge hit.
Keith Urban's 'RipCORD World Tour 2016', Wednesday July 27th & Friday July 29th, 7:00pm $63.24-$114.20
Keith Urban has long been considered  one of the music industry's best live performers giving his audience unpredictable shows with amazing production and a set list that is filled with many of his No. 1 songs. Keith Urban's concerts are said to be "electrifying and emotional, face-paced and inclusive" and a "concert event not to be missed." This World Tour is debuting on the heels of his 8th studio album release.
Steve Miller Band, Thursday August 18th, 7:00pm $39.50-$139.50
Formed in neighboring San Francisco, The Steve Miller Band is an American rock band best known today for a string of mostly mid-1970s classic rock hit singles. The band's Greatest Hits 1974–78 sold over 13 million copies. The band has continued to produce more albums and has toured with Journey. In 2015, Steve Miller was nominated as a solo artist for the Rock and Roll Hall of Fame.
Sammy Hagar and the Circle, Friday August 26, 2016, at 7:30 pm $69.50
For almost forty years, Sammy Hagar has been known as one of rock music's most dynamic and prolific artists. Known as the "Red Rocker", Sammy is recognized for the seminal hard rock band Montrose, his multi-platinum solo career and his role as front man of Van Halen. He's earned a Grammy Award, induction into the Rock and Roll Hall of Fame alongside Van Halen and is currently on his fourth platinum run with the group Chickenfoot which is made up of some pretty big names in music.
Stevie Wonder, Friday September 2, 2016, at 7:00 pm, $99.50-$249.50
Known for both his music career and humanitarian and philanthropic leadership, Stevie Wonder  has created 49 Top Forty singles, 32 #1 singles and worldwide sales of over 100 million units. He has also won 25 Grammy Awards, a prestigious Grammy Lifetime Achievement Award, a Golden Globe and more. As a live performer, Stevie continues to astound audiences around the world. Be sure to snag your tickets while you can, this is one of the most anticipated shows of the summer.
For more South Lake Tahoe events, be sure to visit Tahoe South. If you have any questions about booking a South Lake Tahoe vacation rental, be sure to call us as we have many vacation rentals in Lake Tahoe available.
Lake Tahoe is a world class destination that draws 3 million visitors every single year. If you are one of those 3 million, this blog is for you. Booking travel typically takes some planning and research. Where to stay, how long to stay, when to get the best deal and when to stay. If you have been on the fence about booking a weekend trip and a midweek trip, we can't deny that both have their perks. Today we are going to highlight all the great reasons that you should book a midweek stay in a South Lake Tahoe Vacation Rental.
Less traffic. Lake Tahoe gets a lot of "weekend warriors". These are people that live in other parts of Northern Nevada or the Bay Area and like to come up on the weekend either to their time share or Lake Tahoe vacation rental. This causes for lots of traffic and extra time getting around. If you live in an area that has a lot of traffic, you may not love the idea of dealing with it while you are on vacation too.
Less Crowds. Along with less traffic, you get less crowds. This means not as long of a wait at restaurants, casinos, grocery stores (oh the grocery stores! If you saw the line at Safeway or Raley's at any given point on a Friday or Saturday night, that would seal the deal for a mid week stay), bars, clubs and parking. South Lake Tahoe is a small town and parking is limited. Ask any local where they stay away from on the weekends and most will tell you the "downtown"/casino area. Parking is typically a nightmare and you spend time driving around trying to find a convenient spot. One would think the casino's would be a good spot, but nope! Those spaces are typically filled up too. As this area may be part of why you want to visit, a midweek stay will give you a better experience.
VIP Access to local hot spots. If you love first chair as much as the next snow fanatic, this will be appealing. Midweek stays in a South Lake Tahoe vacation rental allows for more ski and snowboard terrain all to yourself. This means fresh untouched powder and corduroy tracks just for you and the locals. On the weekends, you can find traffic jams on the streets AND the slopes. During the summer, this means you get to not only avoid the long line of traffic leading to the beaches, but you also get a prime parking spot.
Weekly local events. Lake Tahoe is a community that really takes care of the locals. Throughout the week we have events that happen on a reoccurring basis that locals look forward to. The casino's and bar's have dedicated nights for live music, comedy, menus and more. One of our most notable weekly events is the Wednesday night Pints 'N Paddles cruise on the M.S. Dixie. Ike & Martin, voted The Best of Tahoe for the last few years, provide an hour and a half of live music as you cruise the waters of Lake Tahoe. This event is so loved by the locals that tickets sell out so it recommended to buy yours in advance.
Live like a local. Speaking of local events, when you stay in a vacation home for rent in Lake Tahoe, you get to do as the Romans do. Mix in with the locals and enjoy our laid back lifestyle with our gorgeous natural surroundings. No one will know you are not from here if you don't tell them!
Avoid the Sunday madness. Every Sunday there is a mass exodus so that visitors can get back to their homes in a timely manner and return to the daily 9-5 grind. Unfortunately for those traveling, and us that live here, HWY 50 heading out of town can get backed up. If there is fresh snow? People can be stuck in traffic for hours. Booking a South Lake Tahoe vacation rental mid week means you get to bypass that whole mess.
Cheaper Rates. If all of the other reasons are not enough to book a mid week stay in a vacation home for rent in Lake Tahoe, you may find cheaper rates enticing. That is right-vacation homes for rent in South Lake Tahoe typically have cheaper rates during the week.
No matter what, South Lake Tahoe is gorgeous every day of the week, all year long. However, depending on the type of vacation you are looking for, don't rule out a midweek stay in a South Lake Tahoe vacation rental. It has more perks than you know! For information on renting a vacation home in South Lake Tahoe, give us a call at 1-866-407-0245.
With each passing day, ski season is getting closer and closer. Not only is this the most beautiful time of year, it's the time where Tahoe is at its best. If you haven't already, you need to book your ski-cation as soon as possible to be able to make the most of all that South Lake Tahoe has to offer. We have a wide variety of ski resorts to choose from to get your skiing fix in. We have Heavenly, Sierra at Tahoe, Kirkwood, Homewood, Alpine/Squaw, Diamond Peak, Boreal, Mt. Rose, Sugar Bowl, and Northstar. Between all of these world famous resorts you should be able to completely fill you skiing needs, all offering a vast array of terrain to choose from. And don't forget to book your stay through Lake Tahoe Getaways to complete your ultimate Winter Vacation.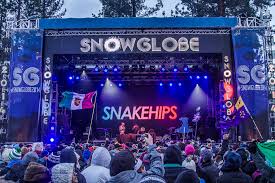 SnowGlobe is Tahoe's biggest concert venue of the year. If you haven't already scheduled your trip to the lovely South Lake Tahoe, then you need to start planning now. Come see how beautiful Tahoe is during the most amazing time of the year. And don't forget to schedule your accommodations for the trip, Lake Tahoe Getaways has the best cabins to further enhance your stay.