One of the biggest summer weekends for vacation rentals in South Lake Tahoe (aside from 4th of July of course) is The Celebrity Golf Tournament. Taking place at Edgewood Golf Course, this 54-hole event includes a purse of $600,000 with a $125,000 for the winner. This high profile tournament also raises money for the Stowers Institute for Medical Research which is a non-profit, basic biomedical research organization that studies the fundamental processes of life and is dedicated to improving human health. This event has raised over $4 million in charity to date and also benefits the regional Lake Tahoe non-profits as well. One of the funnest parts of this event is seeing so many professional athletes and celebrities take on our local links. This year, we can look forward to Charles Barkley, Justin Timberlake, Aaron Rodgers, Emmitt Smith, Larry Fitzgerald, John Elway and many more.  Not only is the town filled with celebrities and professional athletes, but there are major headliners at the Harvey's outdoor summer concert series and several other events that happen around town during this week. Which makes for a busy town with lot's of traffic and very little vacancy with South Lake Tahoe vacation rental accommodations. If you are planning a trip to the area during July 19th-24th, be sure to book your South Lake Tahoe vacation rental now as our properties go quickly. We have vacation rental properties in South Lake Tahoe ranging from the charming Ol' Tahoe cabin to the Luxury Lake Tahoe mountain lodge. If you are thinking of attending the celebrity golf classic, click here for more information. If you would like to check out the South Lake Tahoe vacation rental properties, click here and feel free to let us know if you have any questions. Below is ticket information for the Celebrity Golf Classic.
$20 for the Lake Tahoe Celebrity-Amateur on Tuesday, the practice round on Wednesday and for the American Century Celebrity-Amateur on Thursday.
$30 for each tournament rounds on Friday, Saturday, and Sunday.
A $60 Patron Badge Season Pass allows you to access all six days of the event but has to be purchased by 06/19 otherwise cost goes up to $70.
Kids 10 and under are free so long as they are accompanying a paid adult.
A cabin with the best Tahoe has to offer. Convenient in town location but with a feeling of peace and quiet rarely found this close to all that Tahoe has to offer.  Located just minutes from skiing at Heavenly, boating and playing on Lake Tahoe, dining at one of the many restaurants on Ski Run Blvd.  The Tahoe Pines cabin backs to acres of open space and is adjacent to the bike trails. This is a perfect location for exploring the meadow, walking to Bijou Park ( disc golf, kids play area, BMX bike track and more) and enjoy the beautiful fresh mountain air.
This three bedroom cabin features a sunny living room with gas fireplace, kitchen, dining area, full bath and one bedroom downstairs. Upstairs are two more roomy bedrooms with vaulted ceilings.
On the back deck facing the meadows there is a new hot tub, this is the perfect spot to relax after a day of skiing, hiking or playing in Lake Tahoe.
The owners describe it best:
It's an oasis of serenity for us. In winter, the kids enjoy playing in the snow, especially with the big hill in the backyard by the trail. During the summer, they enjoy the woods and playing outside.
Bedroom 1 on main floor
Double Bed
Bedroom 2 Upstairs front   Queen Bed
Bedroom 3 Upstairs Two double beds and two twin futon beds
Full Bath–Shower/Tub Combo
Television–WIFI accessible (no DISH or cable)
WIFI
Lake Tahoe is a world class destination that draws 3 million visitors every single year. If you are one of those 3 million, this blog is for you. Booking travel typically takes some planning and research. Where to stay, how long to stay, when to get the best deal and when to stay. If you have been on the fence about booking a weekend trip and a midweek trip, we can't deny that both have their perks. Today we are going to highlight all the great reasons that you should book a midweek stay in a South Lake Tahoe Vacation Rental.
Less traffic. Lake Tahoe gets a lot of "weekend warriors". These are people that live in other parts of Northern Nevada or the Bay Area and like to come up on the weekend either to their time share or Lake Tahoe vacation rental. This causes for lots of traffic and extra time getting around. If you live in an area that has a lot of traffic, you may not love the idea of dealing with it while you are on vacation too.
Less Crowds. Along with less traffic, you get less crowds. This means not as long of a wait at restaurants, casinos, grocery stores (oh the grocery stores! If you saw the line at Safeway or Raley's at any given point on a Friday or Saturday night, that would seal the deal for a mid week stay), bars, clubs and parking. South Lake Tahoe is a small town and parking is limited. Ask any local where they stay away from on the weekends and most will tell you the "downtown"/casino area. Parking is typically a nightmare and you spend time driving around trying to find a convenient spot. One would think the casino's would be a good spot, but nope! Those spaces are typically filled up too. As this area may be part of why you want to visit, a midweek stay will give you a better experience.
VIP Access to local hot spots. If you love first chair as much as the next snow fanatic, this will be appealing. Midweek stays in a South Lake Tahoe vacation rental allows for more ski and snowboard terrain all to yourself. This means fresh untouched powder and corduroy tracks just for you and the locals. On the weekends, you can find traffic jams on the streets AND the slopes. During the summer, this means you get to not only avoid the long line of traffic leading to the beaches, but you also get a prime parking spot.
Weekly local events. Lake Tahoe is a community that really takes care of the locals. Throughout the week we have events that happen on a reoccurring basis that locals look forward to. The casino's and bar's have dedicated nights for live music, comedy, menus and more. One of our most notable weekly events is the Wednesday night Pints 'N Paddles cruise on the M.S. Dixie. Ike & Martin, voted The Best of Tahoe for the last few years, provide an hour and a half of live music as you cruise the waters of Lake Tahoe. This event is so loved by the locals that tickets sell out so it recommended to buy yours in advance.
Live like a local. Speaking of local events, when you stay in a vacation home for rent in Lake Tahoe, you get to do as the Romans do. Mix in with the locals and enjoy our laid back lifestyle with our gorgeous natural surroundings. No one will know you are not from here if you don't tell them!
Avoid the Sunday madness. Every Sunday there is a mass exodus so that visitors can get back to their homes in a timely manner and return to the daily 9-5 grind. Unfortunately for those traveling, and us that live here, HWY 50 heading out of town can get backed up. If there is fresh snow? People can be stuck in traffic for hours. Booking a South Lake Tahoe vacation rental mid week means you get to bypass that whole mess.
Cheaper Rates. If all of the other reasons are not enough to book a mid week stay in a vacation home for rent in Lake Tahoe, you may find cheaper rates enticing. That is right-vacation homes for rent in South Lake Tahoe typically have cheaper rates during the week.
No matter what, South Lake Tahoe is gorgeous every day of the week, all year long. However, depending on the type of vacation you are looking for, don't rule out a midweek stay in a South Lake Tahoe vacation rental. It has more perks than you know! For information on renting a vacation home in South Lake Tahoe, give us a call at 1-866-407-0245.
Exquisite Tahoe Cabin Rental – Cabin Fever
no images were found
Fabulous mountain themed cabin situated in one of
Lake Tahoe
's finest neighborhoods.
Rustic
yet modern is the theme throughout this "Old Tahoe" cabin. Completely remodeled granite kitchen with stainless steel appliances blend with the  rustic touches and comfy furnishings throughout the home. A cozy fireplace accents the living/dining open area which lends itself as a terrific gathering place for your family and friends.
Come home to the mountains and pamper yourself at our wonderful "Cabin Fever" retreat. Bring your snowshoes, cross country skis or snowmobiles as the national Forest trails are right across the street for miles of pristine touring. All of the attractions that bring our guests to the
South Shore
of Lake Tahoe are only minutes away? yet worlds away from the downtown hub bub that is South Lake
Tahoe.
Book
your next Lake Tahoe vacation at "Cabin Fever". You will NOT be disappointed!
no images were found
Mountain Retreat -The Tahoe Tree House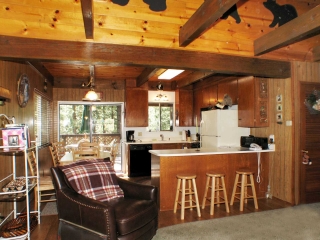 Classic Lake Tahoe mountain retreat! .Hot Tub, high speed internet,mountain style furnishings, huge relaxing decks, tons of privacy and "Old Tahoe" charm to boot. The Tahoe Tree House is situated in one of South Lake Tahoe's favorite areas and is literally minutes to Heavenly, Sierra, Kirkwood and all of South Shore famous attractions including pristine beaches, marinas, hiking and casinos! The famous "Mr. Toads" mountain bike trail is minutes away as well.
Walk a block down the street and step into miles and miles of National Forest perfect for snow shoeing, cross-country skiing and nearby the National Forest allows snowmobiles. The trail system is extensive (call for information on any of these activities…we know the ropes!)
Book The Tahoe Tree House…you will NOT be disappointed!
Book Now!
| | |
| --- | --- |
| Hot Tub: | Yes |
| Internet Access: | High Speed Wireless |
| TV Cable/Satellite: | Cable TV |
| Pets Allowed: | Yes |
| Balcony: | Large View Decks |
| View: | Mountain/Forest |
| Distance To Skiing: | 10 Minutes |
| Fireplace, Wood/Gas: | Gas Fireplace |
| BBQ Grill: | Yes |
| TVs/VCR/DVD: | Yes/Yes/Yes |
| Square Footage, Est.: | 1500 |
| Washer/Dryer: | Yes/Yes |
| Beach Distance: | 10-12 Minutes |
| Parking: | 4 Cars |
| Bed Size 1st/Master: | Queen |
| Bed Size 2nd Rm: | Queen |
| Bed Size 3rd Rm: | Queen |
| Bed Size 4th Rm: | Double/Loft |
| Micro/Dishwash/Disp.: | Yes/Yes/Yes |
| Patio: | Large Decks |
| Stereo s/CD: | Yes |
| Ski In Ski Out: | X-Country |
| Table Games: | Yes |
| Dishwasher: | Yes |
| # Bathrooms: | 2 Full |
[googleMap name="Tahoe Cabin Rental-The Tahoe Tree House" width="500″ height="400″]1831 Miniconjou, South Lake Tahoe, CA[/googleMap]!