Come enjoy sunshine, bluegrass music and Telemark equipment demos all day today at Sierra at Tahoe. This is Sierra's 9th annual Telegrass Festival where you can register to participate in Telemark clinics for all levels of experience.  Afterwards, stomp your feet to some live music, enter raffles to win prizes and enjoy some brews out in the spring time sun.
Clinics are 10 a.m to 11:45 a.m and 1pm to 2:45 in the afternoon. Telemark clinics are only $75 and you'll get a discounted lift ticket for $25.  See you out there!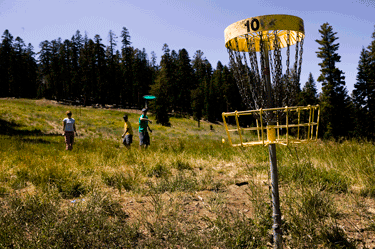 One of the best ways to enjoy the amazing weather we have in Lake Tahoe is to head out with some friends and play a round of disc golf. It is a great way to enjoy nature and spend some time outside on a beautiful day. There are three different courses in the Lake Tahoe area and each of them offer different obstacles and terrain that make each unique. The first course "Bijou" is located off of Al Tahoe right by the skate park, and is the closest to most south shore guests. With 27 holes you can play all afternoon.
This course has the most trees of any of Lake Tahoe's disc golf courses so bring you're A game. There are many picnic tables scattered throughout the course so pack a lunch and hang out for a while. If your playing early season watch out for the sixth hole because you may land in "the lake" it normally evaporates by the middle of summer though. All in all a great course that will challenge most and the games go quick because of the lack of many elevation changes and hilly terrain. The second and most challenging course is located in the park in Zephyr Cove. Bring some good shoes because you will encounter many elevation changes and steep grades.
This course has beautiful lake views from a number of holes and will really challenge even the best of players. Pay attention to your drives because it is not uncommon to lose a disc… there is a lot of thick brush and quite a bit of trees. This course is also the least crowded so even though it is challenging it is good for beginners because they can take their time and even take practice shots.
If you like challenging yourself this is the place for you… just be ready to climb some hills. The third course is actually located on the mountain at Kirkwood. This course is not for the unfit… the base of the course is at 7800' and you go up from there. With 18 challenging holes that weave throughout the mountain it is a great way to see what the ski area looks like without tons of snow on it. Take the beautiful drive out to Kirkwood and play in the sun you won't be disappointed. Whatever course you choose they are all a great time and the best part FREE! So get out and play a round and we'll see you out on the course.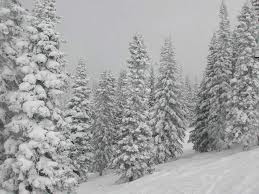 Happy St. Patrick's Day and we are super fortunate to have all this powder dumped on us for the weekend. It is easily  the biggest weekend of snow so far this season.
The  biggest and coldest storms of the week  moved in last night.  We could see another another foot by Sunday. Kirkwood has received new 42 inches of the fluffy stuff with a storm total of 58 inches.  Heavenly  has received 24-48 inches and Sierra at Tahoe claims 36 inches with a storm total of 45 inches.
Looking at the long-range, snow showers could linger into Monday and then more storms could hit the following week as the trough looks like it will stick around the West Coast.
Please be ready for possible lift holds while resort crews perform safety controls.  There will also be some driving delays. Please check road conditions and make sure to have chains or 4 wheel drive and snow tires.
This is the best condition of the year so far! So get out there,  wear some green and enjoy the fresh tracks.
Skiing Is Great at Tahoe!
The conditions for Lake Tahoe snowmobiling are absolutely incredible. With a near-record snow pack the riding should be epic well into May!
[googleMap name="Flagpole Peak" width="525″ height="525″ directions_to="false"]1964 Nez Perce Drive, South Lake Tahoe, CA[/googleMap]