Lake Tahoe Cruises-Get Out On The Lake!
The best way to see Lake Tahoe is to get out on the lake, and there are many different cruises from which to choose. It's a 'must do'- the ultimate Lake Tahoe experience. Lake cruises offer unforgettable views of the lake and signature snow-capped peaks of Tahoe. From paddle boats to dinner cruises to private chartered charters, you'll be able to see the lake in a whole new way.
Bleu Wave Public and Private Charters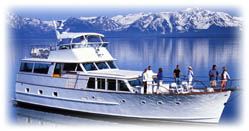 Tour Tahoe in style – in a 1966 Million Dollar Classic Yacht. This 70 foot long tour boat  has room for up to 50 exclusive passengers, and amenities include a fully stocked bar, fireplace, private lounge, stateroom, fly-bridge, restrooms and climate controlled indoor facilities. Bleu Wave charters public, as well as private cruises, and ensures awe-inspiring views plus friendly staff to attend to you.
For reservations or information call (866) 423-0985 or visit their website –Tahoe Bleu Wave Cruises
Zephyr Cove Resort Cruises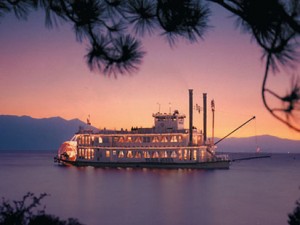 Cruise to breathtaking Emerald Bay in a spacious Mississippi paddlewheeler, the M.S. Dixie or the Tahoe Queen, voted best cruise in Lake Tahoe by readers of The Tahoe Tribune. Choose from a daytime scenic cruise or a sunset dinner cruise that includes live entertainment and delicious entrées. Enjoy learning about Lake Tahoe's history from an incredibly convincing and comical Mark Twain impressionist, or see a live performance by recording artist Darren Talbot. Zephyr Cove cruises also offers luxurious private charters for weddings and groups and specialty cruises like the upcoming Mark Twain Wild West Weekend and Lights on the Lake. Cruises depart from Zephyr Cove year round.
For reservations and information call (800) 23 TAHOE or visit their website, where you can also find specials and packages – Zephyr Cove Resort and Lake Tahoe Cruises
Tahoe Gal Daily Cruises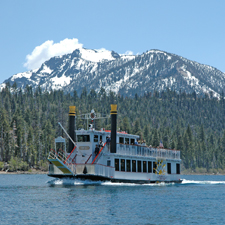 Join the fun and romance aboard the 149 passenger Tahoe Gal, offering four sightseeing cruises daily where you can truly experience Lake Tahoe's stellar splendor. Daily cruises on North Shore's first cruise line include a relaxing Shoreline Brunch Cruise, a Lunch Cruise to Emerald Bay, a fun Happy Hour cruise, and a romantic Sunset Dinner cruise. There are also a myriad of specialty cruises being offered this summer, including a Wine Tasting cruise, a Comedy cruise, Magician cruise, Full Moon cruise, and Sunday Night Live Music Dinner cruise. Tahoe Gal also does private charters and weddings. Cruises depart from Tahoe City from May through October.
To make a reservation call (800) 218-2464 or visit the website – Tahoe Gal Cruises
Tahoe Paradise Private Charters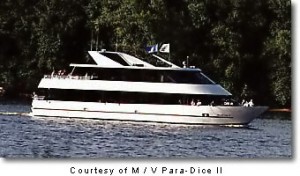 The Tahoe Paradise, an 81-foot luxury motor yacht which can accomodate up to 149 passengers, is the most elegant yachting experience on the lake. Fantastic panoramic views can be enjoyed on the deck or through large picture windows in the enclosed lower salon, which has a full-service bar with tables, chairs, and a custom sectional sofa. Cruises include everything from a light casual buffet to a formal dinner, and the friendly yet elegant atmosphere is perfect for business meetings or weddings. The Tahoe Paradise offers day and evening private charters year-round for all occasions.
For additional information, rates and reservations, call (800) 238-2463 or (530) 541-7499
The Party Boat Scheduled Cruises and Private Charters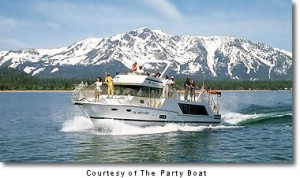 Charter the Party Boat, a comfortable 52 foot Harbor Master. The boat accomodates up to 49 guests and is a great way to celebrate a company retreat, wedding, family reunion, birthday party, or bachelor/bachelorette party. The Party Boat caters, and will even offer cakes, photography, flowers, and music. It includes a full kitchen, bar, restrooms, conference cabin, a fully enclosed lower salon and upper deck, indoor and outdoor decks, a fly-bridge, sound system and gas barbecue. Day and evening tours, cruises and private charters departing from Tahoe Keys Marina are offered year-round and for any occasion.
For reservations and information call (888) 542-2111 or (530) 308-8016 or visit the website – The Party Boat Lake Tahoe
Tahoe Thunder Speedboat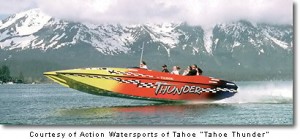 An altogether different kind of cruise, the Tahoe Thunder is a thrill ride like no other that would be an exciting and fun option for sports enthusiasts and adrenaline junkies alike. The 33-foot high-speed catamaran is Tahoe's fastest Coast Guard inspected speedboat. It accommodates 12 passengers and skims across the lake to beautiful Emerald Bay. Action Watersports of Tahoe also has two-hour sailing cruises aboard the 65-foot Macgregor "Windsong" or 55-foot Catamaran "Sierra Cloud". Operates from May to October departing from Timber Cove Marina.
For reservations and additional information, call (530) 544-2942 or visit the Action Watersports website – Action Watersports at Timber Cove Marina and Lakeside Marina
Tahoe Sailing Charters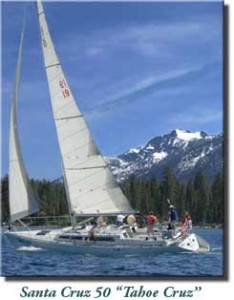 Roomy comfort and high performance sailing are the main perks of the 50-foot Santa Cruz class "Tahoe Cruz". The impressive sailboat offers a full galley complete with marine head and changing berth and accommodates up to 25 people. You can choose from a variety of two-hour afternoon cruises aboard this romantic sunset sail. Cruises depart from North Lake at Tahoe City Marina from May to October.
For more information, rates and reservations, call (530) 583-6200 or (800) 979-3370
Tahoe Princess Private Charters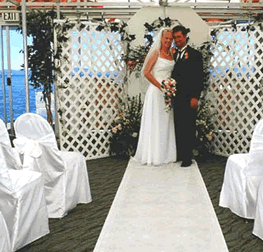 The Tahoe Princess, a 70-foot, Pontoon Boat, which can comfortably accommodate 120 passengers,  charters privately. It is an excellent venue for weddings, anniversaries, and business meetings. Cruises depart from Ski Run Marina from May to October.
For more information call (800) 238-2463 or (530) 541-3364
Woodwind Sailing Cruises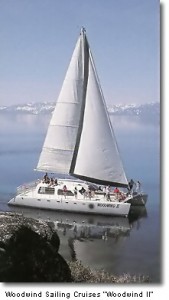 Woodwind Sailing Cruises is one of the oldest sailing excursion companies in the United States, and a cruise with them is full of history and romance. Their boats offer spacious seating, wide decks, enclosed cabins, restroom facilities, glass-bottom viewing windows, a full-service bar and a state-of-the-art sounds system. The star of the show is the beautiful 50 passenger, 55-foot catamaran, the Woodwind II. It hosts formal as well as informal parties including an Eastern Shoreline Cruise, Happy Hour Cruise, and Sunset Champagne Cruise. They specialize in weddings. The Woodwind II sails from April 15 to October 15 and special cruises may be arranged from November through March. Cruises depart from Zephyr Cove Marina.
For reservations and information call (888) 867-6394 or visit their website – Woodwind Cruises Lake Tahoe
Round Hill Pines Beach & Marina
325 Hwy 50 / Box 311, Zephyr Cove, NV 89448
This beautiful 1966 Million $$$ Classic Yacht has toured around the world and is now cruising Lake Tahoe's pristine waters.
The Tahoe Bleu Wave is an exceptional tour boat measuring in at over 70 feet long with room onboard for up to 49 passengers which includes a fully stocked bar, 2 staterooms, flying bridge, titanic party bow, restrooms and full climate controlled indoor facilities.
Boating at Lake Tahoe
Nothing beats taking a boat out on the Lake with family and friends.  With Lake Tahoe's pristine blue water and amazing scenery heading out on the lake is the best way to enjoy a sunny day.  Pull up at the Beacon in Camp Richardson and grab a bite or just float around in Emerald Bay and take in the sights.  There are plenty of boat launches in the Tahoe Area even one right on El Dorado beach in the center of town.  If you don't have a boat don't sweat it here is a list of local area boat rentals:
A.

– www.tahoesports.com – (530) 544-8888

B.

– www.tahoeactionsports.com – (530) 542-6570

C.

– www.action-watersports.com – (530) 541-4386

D.

– www.tahoesports.com – (530) 544-0200

E.

– www.tahoesportfishing.com – (530) 541-5448

F.

Timber Cove Sailing Center

– maps.google.com – (530) 541-7245

G.

– www.action-watersports.com – (530) 544-5387

H.

– www.action-watersports.com – (530) 541-9800

I.

Fallen Leaf Marina

– www.fallenleafhouse.com – (530) 544-0787

J.

– www.sailwoodwind.com – (530) 542-2212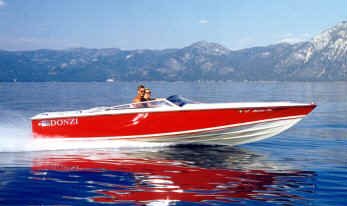 So get out on the lake and have some fun, see you out there!