Lake Tahoe Dog Parks & Dog Friendly Beaches
If you're in the mood for an outing but don't want to leave your floppy-eared friend behind, the South Lake Tahoe area has some wonderful pet-friendly options.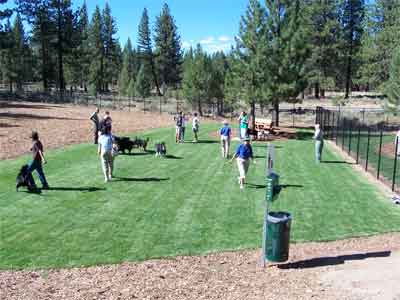 Bijou Dog Park
Located within Bijou Community Park, Bijou Dog Park is a great place for dogs and owners alike. Both large and small dogs can romp around off-leash in the fenced grassy area. It's a perfect place to people-social and dog-socialize, with plenty of shade, benches for relaxing, pet sanitary stations and water. The Bijou Dog Park is located at 1201 Al Tahoe Blvd., and it's open daily, closed Monday mornings from 8am to 11am for maintenance.
.
Tallac Historic Site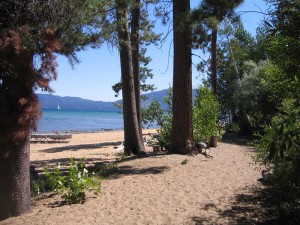 Dogs are also allowed on-leash at the Tallac Historic Site, at the beach or on the grounds, where you can check out the historic estates: Pope, Valhalla, and Baldwin. The houses are beautiful and offer a look at the lifestyles of Tahoe's early rich and famous. Tallac also boasts concerts and fun festivals happening all summer long. Tallac Historic Site is open daily mid-June through mid-September, and is located on Hwy 89, north of Camp Richardson Resort. For more information on events, visit the Valhalla website – Valhalla Tahoe.
.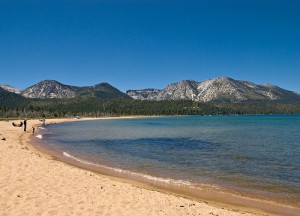 Kiva Beach
Another fun place where Fido can tag along is Kiva Beach. Dogs are welcome on-leash, and the beach is an excellent area for sunbathing and various water sports. One of the longest beaches in Lake Tahoe, Kiva also has restrooms and picnic tables. Kiva Beach is open daily and is located on Hwy 89 at Fallen Leaf Rd.
.
.

Echo Lakes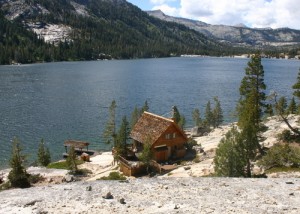 Echo Lakes is a great, leisurely spot to picnic and swim, and dogs are allowed on-leash. There's even a water taxi that can take you and your dog across the lake, and an easy to moderate hiking trail. To get to Echo, from the South Lake Tahoe Y, drive south on Hwy 50 for 9.5 miles, turn right on Echo Lake Rd, and park in the upper lot at the Echo Lakes Resort. The water taxi leaves from the resort, and operates from Memorial Day to Labor Day, 8am to 5pm. For more information, call (530) 659-7207.
.
[wpgmappity id="13″]
One of the best ways to enjoy beautiful Lake Tahoe is at one of the many beaches along the lake. Here is a guide so some of them that will explain what each has to offer.
Round Hill Pines Beach – Located on the southern end of Marla Bay minutes from the casinos and many of Lake Tahoe's vacation rentals. This is a great beach for relaxing but there is plenty of stuff to keep you occupied. Rent a jet ski or a boat from H2O water sports and get out on the water or grab some lunch at the Lakeside Bar and Grill. There are even tennis courts and a heated pool for guests to enjoy. This is also a killer beach for watching sunsets set over the Sierras. There is a 7 dollar parking fee per vehicle.
Sand Harbor – Is one of the only beaches on Nevada's East shore with fine grained white sand hence its namesake. There are many large boulders as well that make scuba diving and snorkeling a popular pastime on the beach. There is a fire pit area as well as a concession stand to keep you full. Parking fees range from 4 to 8 dollars depending on the time of the season and there is a boat launch that is open as long as the water is deep enough.
Angora Lakes– Is an awesome glacially carved lake up in the mountains below the South Shore of the Lake. From where you park it is about a 1 mile uphill hike until you reach the lake. Once you have made it though it will all be worth it. With a sandy beach perfect for kids and many rocks and even a few cliffs to jump off of Angora Lakes it a great place to enjoy our perfect weather. With an elevation of 7450′ it is inherently colder but extremely refreshing. There is a 5 dollar parking fee.
Zephyr Cove- Is the place to go if you want to have a good time. With cocktail waitresses roaming the beach and every type of water sports rental imaginable this is the place to kick back and enjoy yourself. The beach is over a mile long so families that want to stay away from the party scene can just go further down the beach away from the bar area. There is an 8 dollar parking fee but the lot usually fills up and they will park you at the school across the street and shuttle you across highway 50.
Reagan / Eldorado Beach– Is more of a lakeside park than a beach… there is not much usable sand to play in but there is a large grassy area and plenty of BBQ grills available. This is also a great place to watch the Lake Tahoe fireworks because it is close enough to get a great view but you don't get pinned in by the traffic when the show is over. There is also a great snack bar and there is free parking as long as it is available.
Pope Beach– Is the first of three large sandy beaches on the South Shore of Lake Tahoe. With good protection from the wind and parking that runs the length of the beach this is a great beach for families. There is a 5 dollar parking fee and it does get crowded but it is a great beach nonetheless. You can also walk there from many Lake Tahoe vacation rentals in the Tahoe Keys.
Kiva Beach– Is the place to enjoy the lake with mans best friend. This is the only public beach on the south shore that allows dogs. The water is a little rocky but there are great mountain views to the East, West, and North shores of the lake. Parking is free and fills up quick so try to get there as early as you can to get a good spot. This is the beach to come to if you are staying in a pet friendly vacation rental and your dog needs some crystal clear water to swim in.
Baldwin Beach– The third and last of the 3 Southwestern sandy beaches is a great place to enjoy a sunny day. Bring an umbrella and plenty of sun block though because there is little shade and at 6200′ the sun will get you. This is a great beach for swimming as it is not as rocky as many other beaches in the area. There is a 5 dollar parking fee and the beach stays open into October.

View Lake Tahoe Beaches in a larger map