Lake Tahoe Bicycle Rentals – Lake Tahoe by Land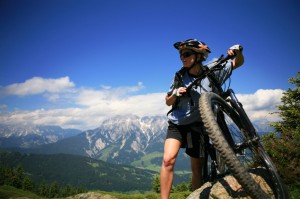 Biking Tahoe is truly an unforgettable experience. Whether you choose to mountain bike one of the superb forested trails or simply cruise by the beach, the bike paths are absolutely beautiful. For bicycle rentals and all of your biking needs, there are plenty of rental shops throughout the Lake Tahoe area.
Sierra Ski & Cycle Works
Sierra Ski & Cycle Works' charmingly simple motto is "Providing toys for the mountains at Lake Tahoe for 30 years". A full service bike shop when there's no more snow to play in, the Works has any kind of rental you're looking for – from the classic beach cruiser to the full suspension downhill mountain bike. With their competitive rental rates, you can rent by the hour or all day. Kid's bikes and multi-day bike rentals are available as well. They know the local trails like no one else, and will happily refer an excellent ride. The shop also has consignment and new gear and accessories, and offers tune ups, fork and shock service, flat repairs while you wait. Sierra Ski & Cycle Works is located at 3430 Lake Tahoe Blvd next to Safeway. They are open daily from around 9am to around 6pm, and they can be contacted at (530) 541-7505 or via their website – Sierra Ski & Cycle Works.
Anderson's Bike Rental
Often voted Best of Tahoe by readers of the Tahoe Daily Tribune, Anderson's offers the ultimate in fun for the whole family and has bikes for everyone – toddlers and grandparents alike. They have a fleet of unique vehicles that are reasonably priced, and the staff is sure to be friendly and informative. Their favorite trail to suggests conveniently begins at the shop itself, and is a pristine path through the national forest and towards Camp Richarson and the shore of the lake that promises to provide views of the jewels of Lake Tahoe. With a new fleet of bikes each year, Anderson's will definitely have the bicycle you're looking for. For a fun and leisurely outdoor recreation experience, the shop is located at 345 Emerald Bay Road. Contact them at (530) 541-0500 or toll-free at (877) 720-2121 or visit the website – Anderson's Bicycle Rental for further information.
Watta Bike
Watta Bike features an experienced team of bike mechanics ready and willing to get you on a rented or new set of wheels, or to get your bike running like new again. They have a wide selection of many different types of bike rentals, and the staff can also provide information about parts and how to perform repairs, or recommend great bike trails in the Tahoe Basin. Watta Bike has a plethora of new bikes from Schwinn, Turner, Marin, Mongoose, Intense, Transition Bikes, GT, and Yeti, and offer top-notch service and repair. The shop includes rental and demo bikes for any type of rider regardless of age or ability, and the team guarantees you'll be riding the gorgeous Lake Tahoe trails in no time. Hourly and daily rates are available. Watta Bike Shop is located at 2933 US Highway 50 and can be contacted by phone at (530) 544-7700 or through their website – Watta Bike. They are open daily, Sundays from 9am to 5pm and Monday through Saturday from 9am to 6pm.
Mountain Mike's Tees and Skis
At Mountain Mike's, Mike and the crew have provided high quality rental service since 1998. The fast, friendly, knowledgeable staff will get you in and out in minutes, and with low prices guaranteed. The "Tees" part of Mountain Mike's Tees and Skis provides Lake Tahoe souvenir and resort apparel, and the summer brings beach cruisers and full-suspension mountain bikes for an unparalleled ride. The Stateline store has been newly expanded, conveniently located across from the Heavenly Gondola at 3979 Lake Tahoe Blvd. They can be reached by phone at (530) 541-2823 and at their website Mountain Mike's Lake Tahoe.
Camp Richardson Mountain Sports Center
The Camp Richardson Mountain Sports Center has over 100 rental bikes in stock, plus offers repairs, maps and guide books, parts and accessories. The Mountain Sports Center has plentiful information on recreation within the area, and can help make your visit to Camp Richardson Resort a fun and memorable adventure. It is located off the paved bike path at 1900 Jameson Beach Rd., and for more information or to reserve equipment, you can call (530) 542-6584 or go to the website – Camp Richardson Resort and Marina.
South Shore Bikes
South Shore Bikes offers sales, rentals, and repairs for mountain, road, performance, full suspension, trailer and BMX bicycles. This shop was just voted "Best Bike Shop" for The Best of Tahoe 2010 and includes expert tune ups and repairs, high end cross country and downhill rentals, a fully stocked BMX shop, and custom road bike fitting. There's even shuttle service to and from local mountain bike parks and rides, and all rentals include helmets and local maps. Bike rental rates are available hourly, half-day, full-day, and multiple-day, and there are no overnight charges with a minimum of a one and a half day rental. South Shore Bikes is located at 945 Emerald Bay Road, and open from Tuesday through Friday from 10am to 6pm, Saturdays from 9am to 6pm and Sundays from 9am to 4pm, closed Mondays. They can be contacted by phone at (530) 444-7433 or at their website – South Shore Bikes.
Lakeview Sports Bike & Jet Ski Rental
With quick and affordable service, Lakeview Sports offers mountain bikes and cruisers, kids bikes, tandem bikes, trailers, helmets, free maps, expert advice and bike repair. The staff sells and rents everything you need, and are attentive to sizing and making sure equipment is ready to enjoy. The shop is in a great biking location, where the Lake Tahoe Bike Path begins at El Dorado Beach, at 3131 Harrison Ave. They can be contacted at (530) 544-0183.
Sports Ltd.
Tahoe Sports Ltd. is a full-service shop that does tune-ups; has a full selection of Specialized, Giant, Kona, Norco, and Electra mountain, road, and cruiser bikes; and can fix flats while you wait. The staff loves biking and will happily help you find that perfect ride. Many beautiful must-ride trails are within five minutes of the 13,000 square foot store at the Crescent "V" Center near Stateline, including the great beginner ride from Camp Richardson around Fallen Leaf, the famous Flume Trail along the east shore, and the ever-challenging Mister Toad's Wild Ride. Stop by the store to get all the info you need on a new bike or local trail conditions, as well as rentals, sports clothing and accessories at 4008 Lake Tahoe Blvd. Contact them at (530) 542-4000 or their website – Tahoe Sports Ltd. Their summer hours are daily from 9am to 7pm.
[wpgmappity id="15″]