Lake Tahoe is the perfect place for a quick weekend getaway, and August is the perfect timing to visit because the town isn't too busy but the weather is still amazing. From beach days to concerts, stunning hikes to gourmet dinners, South Lake Tahoe is the place to be if you need a break from back to school or for an end of summer vacation.
A family favorite day trip among locals and tourists would have to be going on a mansion tour. The Lake Tahoe shoreline hosts a multitude of magnificent mansions with tours operating daily. Vikingsholm is located in Emerald Bay State Park and boasts some of the most beautiful views of the bay and the surrounding mountains. Thunderbird Lodge (aka Whittell Estate) is located on the east shore, there are home tours daily between 11:30 am and 1 pm. Or located in the Camp Richardson area of the south shore you can take a tour of the Pope House, with a recommended donation, which is located at the Tallac Historic site, which is a free site to tour without entering the mansions.
There are summer concerts throughout the South Shore on almost any given night. A family favorite is the Live at Lakeview summer concert series which is put on every Thursday evening at El Dorado Beach/Lakeview Commons. There's music, food, and vendors throughout the evening, as well as a free bike valet! Don't forget to also check out the Summer Concerts that are always happening at Harvey's Outdoor Arena! Slightly Stoopid, Dierks Bentley, Sammy Hagar and the Circle, and Dave Matthews Band will be finishing out this summers series!
Book a cabin with Pinnacle Lake Tahoe Getaways now so you can come and enjoy the last few weeks of summer in beautiful South Lake Tahoe!
South Lake Tahoe is gearing up for a fun filled Labor Day Weekend.
After a hailstorm on Monday the  weather is supposed to be gorgeous and there is a lot going on, here are just a few ideas.
Sunday from 12-5:00pm Sample local restaurants paired with regional wineries at the 5th Annual Sample The Sierra  http://www.samplethesierra.com/
Saturday 10:00am the Great Tahoe Stern Wheeler Race http://tahoesouth.com/events/details/6524/the_great_lake_tahoe_sternwheeler_race_1
Thursday August 28th  Live at Lakeview at Lakeview Commons, free music on the beach, this week presenting Rocker-T  http://liveatlakeview.com/
Friday and Saturday night  The Eagles at Harvey's outdoor concert arena  http://www.harveystahoe.com/shows/eagles.html
Labor Day Weekend Firworks Extravaganza  August 31, 2014 at 8:30pm    http://tahoesouth.com/events/details/6195/labor_day_weekend_fireworks_extravaganza
 Hike for Housing Fundraiser
Hike for Housing Fundraiser for:  Habitat for Humanity & Saint Joseph Land Trust
Participate in the annual Hike for Housing on Saturday, September 15, 2012 at Spooner Lake Park! Hike around Spooner Lake or choose to do the more difficult hike up to Marlette Lake. Proceeds will be split between the El Dorado County Habitat for Humanity & St. Joseph's Community Land Trust to help fund their projects.
Date:  September 15, 2012
Time:  9:00 am-3:00 pm (Registration: 9:00-11:00 am)
Location: Spooner Lake Park
Pre-registration:  $15/individual     $25/family (up to 5)
Registration at Event:  $20/individual   $30/family (up to 5)
This fun-filled day will include hiking at Spooner Lake and/or Marlette Lake and raffle prizes
For more information, call 530-541-2551 or 530-577-7762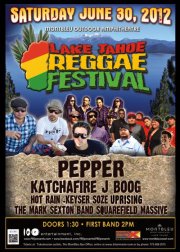 Check it out! Mont Bleu and PR Entertainment will be hosting their first event in the newly renovated outdoor amphitheater on June 30th. The Lake Tahoe Reggae Festival is an all day event for all ages.  The line up include Pepper,  Katchafire,  J Boog from Hawaii, Hot Rain, Keyser Soze, The Mark Sexton Band, UpRising, and Squarefield Massive.  You can purchase tickets at www.ticketmaster.com  or at Mont Bleu's box office for $39.  The doors open at 1:30 and shows begin at 2.
PR Entertainment is also hooking up some lucky winners with VIP treatment. Go to their Facebook page to enter! Included would be 2 all access tickets to the festival,  a deluxe room at Mont Bleu and also transportation if you're flying into Reno's airport. This is not to be missed!