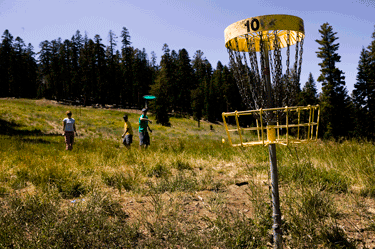 One of the best ways to enjoy the amazing weather we have in Lake Tahoe is to head out with some friends and play a round of disc golf. It is a great way to enjoy nature and spend some time outside on a beautiful day. There are three different courses in the Lake Tahoe area and each of them offer different obstacles and terrain that make each unique. The first course "Bijou" is located off of Al Tahoe right by the skate park, and is the closest to most south shore guests. With 27 holes you can play all afternoon.
This course has the most trees of any of Lake Tahoe's disc golf courses so bring you're A game. There are many picnic tables scattered throughout the course so pack a lunch and hang out for a while. If your playing early season watch out for the sixth hole because you may land in "the lake" it normally evaporates by the middle of summer though. All in all a great course that will challenge most and the games go quick because of the lack of many elevation changes and hilly terrain. The second and most challenging course is located in the park in Zephyr Cove. Bring some good shoes because you will encounter many elevation changes and steep grades.
This course has beautiful lake views from a number of holes and will really challenge even the best of players. Pay attention to your drives because it is not uncommon to lose a disc… there is a lot of thick brush and quite a bit of trees. This course is also the least crowded so even though it is challenging it is good for beginners because they can take their time and even take practice shots.
If you like challenging yourself this is the place for you… just be ready to climb some hills. The third course is actually located on the mountain at Kirkwood. This course is not for the unfit… the base of the course is at 7800' and you go up from there. With 18 challenging holes that weave throughout the mountain it is a great way to see what the ski area looks like without tons of snow on it. Take the beautiful drive out to Kirkwood and play in the sun you won't be disappointed. Whatever course you choose they are all a great time and the best part FREE! So get out and play a round and we'll see you out on the course.
South Lake Tahoe is gearing up for a fun filled Labor Day Weekend.
After a hailstorm on Monday the  weather is supposed to be gorgeous and there is a lot going on, here are just a few ideas.
Sunday from 12-5:00pm Sample local restaurants paired with regional wineries at the 5th Annual Sample The Sierra  http://www.samplethesierra.com/
Saturday 10:00am the Great Tahoe Stern Wheeler Race http://tahoesouth.com/events/details/6524/the_great_lake_tahoe_sternwheeler_race_1
Thursday August 28th  Live at Lakeview at Lakeview Commons, free music on the beach, this week presenting Rocker-T  http://liveatlakeview.com/
Friday and Saturday night  The Eagles at Harvey's outdoor concert arena  http://www.harveystahoe.com/shows/eagles.html
Labor Day Weekend Firworks Extravaganza  August 31, 2014 at 8:30pm    http://tahoesouth.com/events/details/6195/labor_day_weekend_fireworks_extravaganza
 Hike for Housing Fundraiser
Hike for Housing Fundraiser for:  Habitat for Humanity & Saint Joseph Land Trust
Participate in the annual Hike for Housing on Saturday, September 15, 2012 at Spooner Lake Park! Hike around Spooner Lake or choose to do the more difficult hike up to Marlette Lake. Proceeds will be split between the El Dorado County Habitat for Humanity & St. Joseph's Community Land Trust to help fund their projects.
Date:  September 15, 2012
Time:  9:00 am-3:00 pm (Registration: 9:00-11:00 am)
Location: Spooner Lake Park
Pre-registration:  $15/individual     $25/family (up to 5)
Registration at Event:  $20/individual   $30/family (up to 5)
This fun-filled day will include hiking at Spooner Lake and/or Marlette Lake and raffle prizes
For more information, call 530-541-2551 or 530-577-7762
 Labor Day Weekend Festivities in Tahoe
There is a quite a few exciting activities all around Tahoe this weekend. Bring your family, bring your pets and expect great weather and fun all during Labor Day Weekend in Tahoe.
Bacon Beer and Bluegrass will jump start the 27th Annual Lake Tahoe Autumn Food and Wine Festival.  This celebration at the West Shore Cafe and Inn invites everyone to pair up refreshing microbrews with delicious bites of bacon!  Absynth Quintet will perform from 2- 5 pm and Emily Tessmer will follow up.
I can hardly believe there is less than 80 days until winter.   The 26th Annual Heavenly Sports Tent Sale will set up again this weekend with 75% off all major brand name ski and snowboard equipment.  Also, This will be the last chance for prospective pass buyers to purchase an Epic, Tahoe Value or Tahoe Local season pass for only $379 to start.  Heavenly will also be offering special pricing rates for season parking passes to Heavenly season pass holders this weekend.   You can buy California Main Lodge Parking passes at the California Main Lodge Season Pass Office and the Village Parking Garage Passes can be purchased at the Gondola Pass Office The tent sale begins Saturday, September 1, 9:00 a.m.-6:00 p.m.; Sunday, September 2, 10:00 a.m.-5:00 p.m.; and Monday, September 3, 10:00 a.m.-2:00 p.m.
Also at Heavenly this weekend, Salomon  and Big Blue Adventure presents the inaugural Heavenly Mountain Run. This adventure begins on September 2nd and runners will get the opportunity to run the 5.8 mile  all the way up into the sky!. Runners start at 6,565 feet at the California Base Lodge  and conclude the run at 9,250 feet at the top of the Gondola. For more information or to register, visit www.TahoeTrailRunning.com.
Who's up for some friendly 'battle of the paddle' on Lake Tahoe? At 10:30 Saturday morning, the California's Tahoe Queen and Nevada's M.S. Dixie II are set out to race each other for the 20th Great Lake Tahoe Sternwheeler Race sponsered by Korbel California Champagne.  It is a four mile race along the shores of Lake Tahoe.  Spectators can come out to cheer and support their favorite boat across the finish line!
This weekend, you can also taste test the best of Sierra's food and wine. On Sunday, from 1-5 pm, Ski Run Blvd will be closed to host the yearly farm to fork event.   El Dorado County wineries will be pairing their award winning wines with delicious tastes from chefs all around Sierra Nevada.  Crafts, artisans and  live entertainment will also be participating.  Please visit http://samplethesierra.com for more information.  For only $30 for the admission, adults can taste food and wine and receive a commemorative glass.
At 8:30 pm on Sunday, the Labor Day Weekend Fireworks Extravanganza will fill the sky with colors.  Pyro Spectaculars will blast an exciting  20 minute show.  You and your family can view the show from many of our local beaches.  For prime viewing,  please head to Edgewood Tahoe Golf Course, M.S dixie II and Tahoe Queen.
With all the fun to be had this weekend, please also remember that there will be a lot of people in town visiting.  Please plan accordingly when driving through town.  Be patient, be safe and have fun!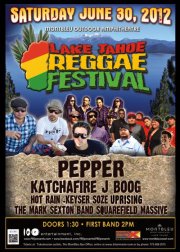 Check it out! Mont Bleu and PR Entertainment will be hosting their first event in the newly renovated outdoor amphitheater on June 30th. The Lake Tahoe Reggae Festival is an all day event for all ages.  The line up include Pepper,  Katchafire,  J Boog from Hawaii, Hot Rain, Keyser Soze, The Mark Sexton Band, UpRising, and Squarefield Massive.  You can purchase tickets at www.ticketmaster.com  or at Mont Bleu's box office for $39.  The doors open at 1:30 and shows begin at 2.
PR Entertainment is also hooking up some lucky winners with VIP treatment. Go to their Facebook page to enter! Included would be 2 all access tickets to the festival,  a deluxe room at Mont Bleu and also transportation if you're flying into Reno's airport. This is not to be missed!