Outdoor Reggae Festival at Mont Bleu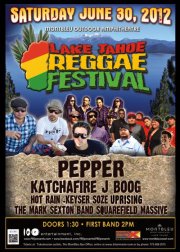 Check it out! Mont Bleu and PR Entertainment will be hosting their first event in the newly renovated outdoor amphitheater on June 30th. The Lake Tahoe Reggae Festival is an all day event for all ages.  The line up include Pepper,  Katchafire,  J Boog from Hawaii, Hot Rain, Keyser Soze, The Mark Sexton Band, UpRising, and Squarefield Massive.  You can purchase tickets at www.ticketmaster.com  or at Mont Bleu's box office for $39.  The doors open at 1:30 and shows begin at 2.
PR Entertainment is also hooking up some lucky winners with VIP treatment. Go to their Facebook page to enter! Included would be 2 all access tickets to the festival,  a deluxe room at Mont Bleu and also transportation if you're flying into Reno's airport. This is not to be missed!
..