Mt. Rose – Lake Tahoe Hiking Trails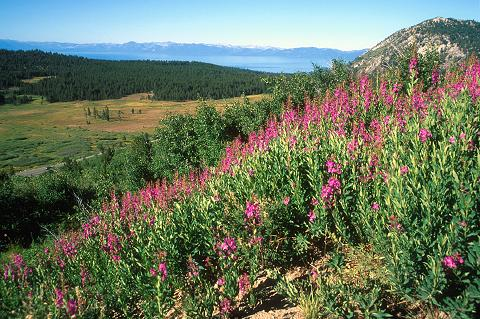 Big, beautiful, and formidable, at 10,776 feet above sea level, Mt. Rose is the third highest peak in the Tahoe Basin. This is a strenuous but certainly rewarding 6 mile hike to the top. The way up is particularly lovely, first following a trail through a forest thick with Lodgepole and interspersed with mule ears and sagebrush. Pass a cute oasis of a pond, and lush, wildflower-covered Tahoe meadows where you'll see, among other flower varieties; lupine, paintbrush, and larkspur. Next, the trail descends slightly into Mount Rose Wilderness and passes several small streams before beginning the steep trek up the switchbacks that lead up the ridge line.
Astonishing views open up steadily as you climb, first to the south, and then views of Boca Reservoir in the north and Stampede Reservoir to the west. As you near the top, in certain seasons you'll find quite an amazing sight – thousands of butterflies. The sheer magnitude of their numbers is awe-inspiring; it's definitely like nothing you've ever seen. As your new winged friends flutter around and cheer you on to the summit, the view opens up further for the ultimate picture; Reno and its surrounding cities in the northeast, Washoe Valley in the east, and, of course, Lake Tahoe in the southwest. Have a bite to eat in one of the few rock storm shelters which provide protection from the winds. Be sure to write your name in the logbook at the summit and show the world you made it. The trip back down will go surprisingly quickly.
Depending on your athletic condition and how long/ how many times you stop, the hike will probably take you anywhere from 4 to 9 hours. Remember to bring plenty of water, food, and sunscreen, as above the treeline it can be very hot and sunny. The area can get very dry at times, so make sure to also check current conditions and fire restrictions with local authorities before heading out for quality time in the uniquely beautiful Nevada wilderness. To get to the start of the trail, take Highway 431 (Mount Rose Highway) north of Incline Village. Park at the trailhead located one mile south of the summit.